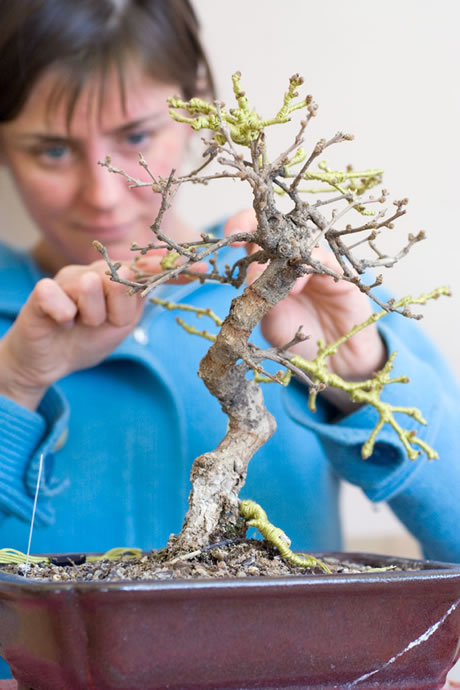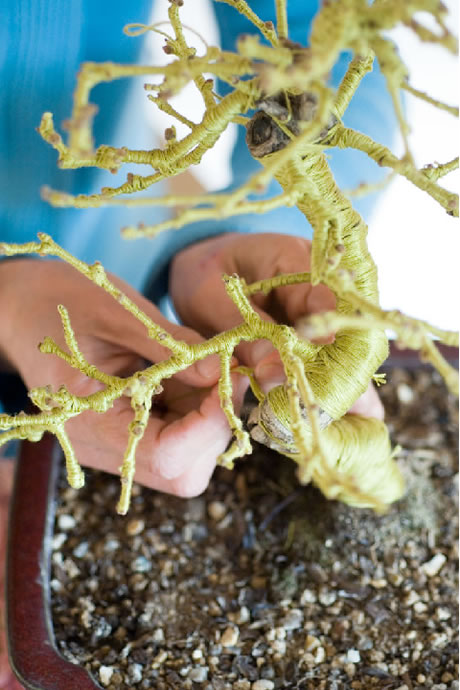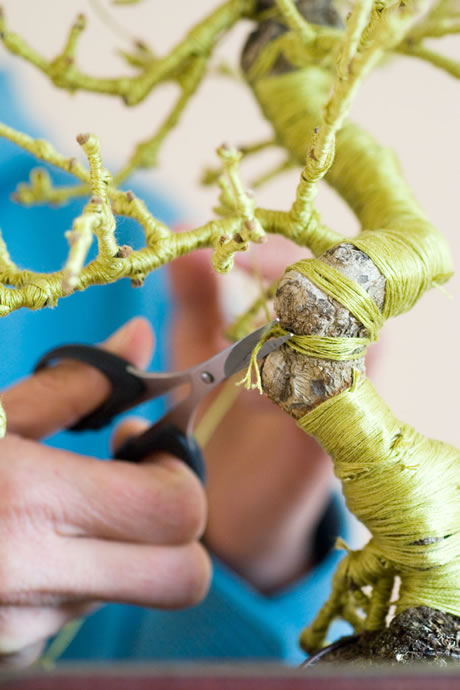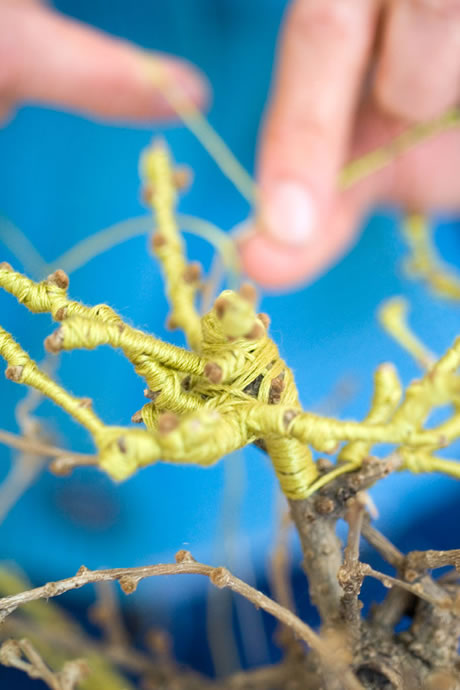 Extracts from Essays:
Extract from 'Ways of Seeing' by Dr Jessica Hemmings for Embroidery Magazine, 2008
'As part of the Anima exhibition at the B312 gallery, Lawrence responded to the site's former role in the fur trade. Fibres from the gallery's previous function inspired a series of kitsch pompoms that emerged from a slightly dusty and forgotten radiator in the gallery. Lawrence admits a certain attraction to seeing elements of her work infiltrate a fine art context with objects 'so low and unskilled'. 'Children can respond to these materials,' she says. 'Others would have had the experience of having made pompoms themselves.' Alongside a constant engagement with site is a bridge Lawrence often forges between handcraft, with its ability to communicate to a broad audience, and an exploration of the multiple, informed by her study of printmaking but now played out through a vast range of materials and techniques.'
Lawrence's is not the easiest artistic practice to situate, which may be its first strength. 'I would like my work to draw and to hold people,' she offers. 'It is about trying to sort out the bigger picture: to make connections between ideas, people and place, rather than just come from the self or be about my culture.' In place of the cultural or art historical references that require contextual knowledge, Lawrence is interested in more accessible frames of reference. 'Art itself is not a direct source of inspiration for my own work, it is the direct human experiences of life that interest me. I prefer for my work to be immediate. An audience can be frustrated when art only refers back to art, for the sake of art.' Instead ofart, site is Lawrence's consistent, albeit ever changing, first consideration. Recent work has teased out snippets of forgotten manufacturing history in Untitled (2005) at the B312 gallery in Montreal, re-considered overlooked elements of the landscape in Bound (2003-6) installed throughout Wales and inserted suggestions of contamination into the gallery in 'Swarm (2002, 2004 and 2007).
'Lawrence's interest in 'giving disregarded objects back some status' is present in Bound, but this line of inquiry also extends to installations such as Swarm. Its most recent version appeared at the Glynn Vivian Gallery in Swansea, where Lawrence enjoyed the culmination of her first touring solo exhibition last year. A shipping crate tucked in the far corner of the room was the first indication that something deserved closer inspection. Peering behind and then above the decoy was a trail of carpet tacks; objects Sara Roberts in her catalogue essay for the exhibition notes are part of the 'aesthetics of the everyday'. The tacks crawl up the wall and reappear around a small pipe jutting from the ceiling, suggesting a beginning somewhere deep inside the building. Amongst the metal tacks, one gold tack stands out, a queen capable of increasing her empire. Intellectually we know each tack is static, incapable of multiplication or flight. But emotionally it can be difficult to hold onto this reality. With a considerable element of humour, the work suggests that this multiple is not only imperfect, but also capable of its own slightly unnerving continuation. Site, in the final event, informs Lawrence's every decision. 'Where place does not directly inform making, the work remains incomplete until it is arranged and placed in its final showing space,' she concludes. Site is, of course, yet another multiple: impossible to replicate, and yet tempting to try.'
Philippa Lawrence, Oriel Davies exhibition
Extract from catalogue essay by Sara Roberts
To read the whole essay click the link: Sara Roberts Essay
Philippa Lawrence smiles at an old friend. Her eyes have lit upon a tack, crudely hammered into the top of a picture rail to serve as the hook for cord from a Venetian blind, too high and too trivial for most people to notice. This is the kind of thing that delights her – the pragmatism, the utility and the beauty of such an object, the aesthetics of the everyday.
She has used tacks like this one in her installations – in such numbers and arrangements that life is breathed into them; they are animated by the fact of their community, by their implied society, its apparent hierarchy, by whatever force it is which draws them together. She has had them colonise the corner and surface of a broken table in Swarm (2004), and teem over the architraves within gallery spaces such as g39, Chapter and Oriel Mostyn (various installations, 2002-04). They follow their golden queen, one tack rendered in precious metal and thus elevated to leadership. Admittedly, at such a distance it is only a minority of onlookers whose patience and observation will be rewarded with a glimpse of this odd-one-out. But this is work of and for the observant eye. It is the artist's eye, which has recognised the insectoid in the humble carpet tack, and equated the blued sheen of annealing in its manufacture with the seductive yet repulsive iridescent shimmer of the bluebottle…
Sara Roberts
July 2006
http://www.a-n.co.uk/interface/reviews/single/326845
---
[i]
Like Gold Dust
, exhibition catalogue, Angel Row Gallery, 2002
[ii] Interview, 4 July 2006.
Exhibition text by Michael Skoda for 'Philippa Lawrence & Reiko Aoyagi', House of Art, 2006
"Concept of space is important to Cardiff-based artist Philippa Lawrence. Her work is designed not only for galleries and interiors but focuses to a significant extent on open spaces and the natural environment. Philippa Lawrence always approaches sites with great sensitivity: through her installations she offers a reflection upon how the visual arts are perceived and encourages us to take note of our surroundings. In its natural generousity, the abstract form of Philippa Lawrence's works shows the benefits of observation, understanding and learning. Her works are captivating not only in their beauty (in the best sense of the word) but oftentimes also by being provacative.
Work is characterised by an enormous amount of patience, hard work and discipline in their creation. It is the concentration and the time invested in the work combined with a notable physical engagement that can be seen as a kind of transmission of energy.
In their diversity her pieces presents us with works of feminine perception with a subtle hint of humour and irony ­ works that touch on the transience in the poetry of the mundane."
Michal Skoda, exhibition curator, House of Art, Cseke Budejovice. 2005