Darning the Land: Sewn
Site-responsive contemporary art commission for Waddesdon Manor, near Aylesbury.
Commissioned by: Waddesdon Manor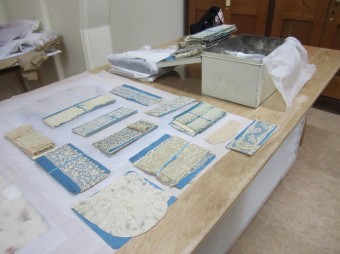 THIS PROJECT WILL BE PLANTED IN SPRING 2013

I was invited to Waddesdon Manor at the end of 2011, making several site-visits before June 2012 when I made my final submission.
The property is closed to the public during the winter months. Most memorably during the period when the house is 'put to bed' for the winter months I had the privilege and the strangest delight of a quietened property to absorb. With curators Rachel Boak and Juliet Carey I traveled through the interior spaces by torchlight, rooms becoming illuminated when we stopped, rare and rich objects and materials coming into view, facts and anecdotes bringing them to life.
I was led across muffling deep red carpet, through closed doors, up spiraling stair wells and past multiple suites of rooms to the textile archive. I spent a long time studying the backs of objects, the hidden, the humble and the care and conservation of the textiles – the darns and mends. These traces said something of the people who lived in these houses and who cared for the material nature of the artefacts.
I 'went through' boxes and drawers of fragments of cloth, pin cushions, buttons and counters – the personal collection of Lady Rothschild but ultimately it was a metal casket of 'bound' lace that held my attention. The skill evident in these  small lengths is quite simply breathtaking. Textiles are often overlooked and taken for granted. I perceive a sense of them being regarded as of lesser interest or value in the hierarchy of objects within a historic setting. My intention is to bring to light something of this feminine collection.
I considered making work that references and celebrate the pattern, embellishment and rich working within the walls, the furniture, the textiles, tapestries and objects at Waddesdon, but felt during the time I spent in the Parkland that it was not necessary to effect, repeat or echo the house and its richness, but to celebrate the simple.
A planting scheme is in keeping with and acknowledges the work and personal passions of Alice Rothschild, her active involvement with gardens and exterior spaces at Eythrop and also in Grasse. Whilst the house reflects a rare and particular world the family were greatly influential in the real world and it is important to me that the work I make echos this – by linking the inner world to the 'outside', exterior.
PROJECT: At Tree Hill to sow a wildflower planting, using seed mix from Pictorial Meadows. The pattern based upon a loose brush mark, taken from the pattern of a particular darn.
Please see 'Darning the Land: Seam' for references to the power of textiles to connect people to place and in consideration of land as a fabric that can reference and celebrate place.